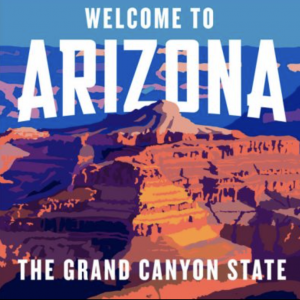 Arizona, the Grand Canyon State that has cactus-filled Sonoran Desert landscape offers different trails to the avid hikers. Hiking in the desert has its own beauty as well as dangers lurking in the grooves. The summer is pretty harsh here so the hikers would prefer hiking the upcountry during the harsh season. A few precautions taken by the hikers will help them stay safe. Never never under estimate the power of nature! Stay safe while hiking!
HIKING TIPS:
Stay hydrated.
Pack a snack or two.
Carry your first-aid kit.
Inform your family member & share your location.
If possible hike with another person
Stay on the trail.
Yield to the hikers going up.
Pack out what you pack in.
Keep your pet on leash. Not that everyone shares your love for pets.
A list of a few Arizona hikes we have done over the past few years is given below and some of them we have hiked many times that we lost count, especially the ones near Scottsdale areas.
Arizona Hiking Trails – Easy
Amitabha Stupa & Peace Park in Sedona
'A' Mountain on Hayden Butte, Tempe
Apache Waterfalls Hike, Globe
Grand Falls, (aka) Chocolate Falls Hike, Flagstaff
Double Butte Loop Trail, Phoenix,
Chimney Rock Hike from Amitabha Stupa & Peace Park in Sedona
Marcus Landslide Trail, Scottsdale, AZ
Granite Mountain & Balanced Rock – Easy
Brown's Ranch Trail, Scottsdale, AZ
Levee Trail Hike, McDowell Mountains, Scottsdale
McDowell Mountain Ranch Javelina Trail, Scottsdale
Dixie Mountain Loop, Phoenix – Horned Owl Nest
Hole in the Rock, Phoenix, Arizona
Waterfall & Black Rock Loop Trail
Dragonfly Trail, Cave Creek, Arizona
Chasing The Poppies – Peridot
Cone Mountain & Brown's Ranch Mountain
Lost Dog Trailhead to Taliesin West, Scottsdale
Sears-Kay Ruin (Tonto National Forest), Scottsdale
Blue Wash Trail to Camp Creek Waterfall, Cave Creek
Arizona Hiking Trails – Moderate
West Fork Trail, Sedona
Devil's Bridge, Sedona
Wind Cave Trail, near Mesa
Shaw Butte North Mountain Hike, Phoenix
Holbert Trail to Dobbins Lookout, South Mountains,
Sunrise Peak from Sunrise Trailhead, Scottsdale,
Bell Pass Trail, Scottsdale
Riding the Wave in the Arizona Desert
Bartlett Lake Reservoir Hike
Gateway Saddle Loop Trail, Scottsdale
Tom's Thumb & the Lookout Trails – 4.9 miles
Pinnacle Peak Trail, Scottsdale
Deem Hills Ridgeline Hike
Tonto Natural Bridge Park
Lockett Meadow Inner Basin Trail, Flagstaff
Broadway Cave in Superstition Wilderness
Lost Dog Wash Trail, Scottsdale
Quartz Trail, Paradise Valley – Scottsdale
Hieroglyphic Trail, Apache Junction
Arizona Hiking Trails – Hard
Humphreys Peak in Flagstaff – the highest natural point in the state 
Agassiz Peak – Arizona's second highest peak – Chair Lift Ride
Flatiron Via Siphon Draw Trail, near Phoenix  – ^5057 feet 
Thompson Peak Tower Hike in Fountain Hills – ^3,982 feet at the summit 
Weavers Needle, Gold canyon
Picket Post Trail, Superior, Arizona – ^4378 feet
Elephant Mountain Trail Hike on Spur Cross Ranch, Cave Creek
Gateway Long Loop Trail (10.9 miles) Scottsdale
Bell Rock Hike (Climb), Sedona
Tom's Thumb Hike, Scottsdale
Tom's Thumb Trailhead from Gateway Trailhead, Scottsdale
Camelback Mountain – Hiking up through Echo Canyon Trail
Part 1 & Part 2 – Hiking Down Cholla Trail, Phoenix
Piestewa Peak – (Sunset Hike), Phoenix
Dixie Peak / Two Bit Peak – Dixie Mountain Loop, Paradise Valley
Black Mountain, Cave Creek
Browns Peak via Brown's Trail, Four Peaks Wilderness
Happy Hiking & Exploring! 😘