[metaslider id=1732 cssclass=""]
Stats:
Trail: Yoshida Trail (Hike up) & Subashiri Trail (Hike Down)
Location: Mount Fuji 5th Station
Mountain: Mount Fuji, Japan
Distance: 11.6 miles (18.6 km)
Trail Type: Loop
Trailhead 5th Station Elevation: 2,305 m (7,562 ft)
Mount Fuji Summit Elevation: 3,776.24 m (12,389.2 ft)
Elevation Gain: 2305 m (4940 ft)
Rating: Difficult
Mount Fuji (Fujisan) is the highest volcanic mountain in Japan standing tall at 3,776 m (12,389 ft) and it is a dormant stratovolcano that last erupted in 1707–1708. Mount Fuji lies about 100 kilometers (60 mi) south-west of Tokyo, and can be seen from the city on a clear day.
Mount Fuji is one of Japan's "Three Holy Mountains" along with Mount Tate and Mount Haku. Mount Fuji's exceptionally symmetrical cone is a common symbol of Japan and has been worshiped as a sacred mountain and has experienced big popularity among artists and common people throughout the centuries.
Official climbing season for 2019:
From July 1 (Yoshida trail), and July 10, (Subashiri, Gotemba and Fujinomiya trails) and ends on September 10.
Hike Summary:
We hiked Yoshida Trail on July 9, 2019. We took a JR line from Ebisu to Shinjuku and from Shinjuku we took Chou-Line Limited express to Otsuki and took Fujikyu Railway from Otsuki to Fujikyu – Highland and checked into MyStays Hotel. After lunch we did a little bit of water & snack shopping for the hike and took a cab to Kawaguchiko Station.
Day 1:
At Kawaguchiko Station, we boarded a bus to Mount Fuji 5th station. The mountain is divided into 10 "stations," and each trail begins from its respective 5th station. We started our overnight hike at Yoshida Trailhead at 7.15 pm. This was our first time hiking in the night. We just followed others and the lead lights from the tea houses. With our headlamps on, we hiked in the dark until we reached FujiSan Hotel.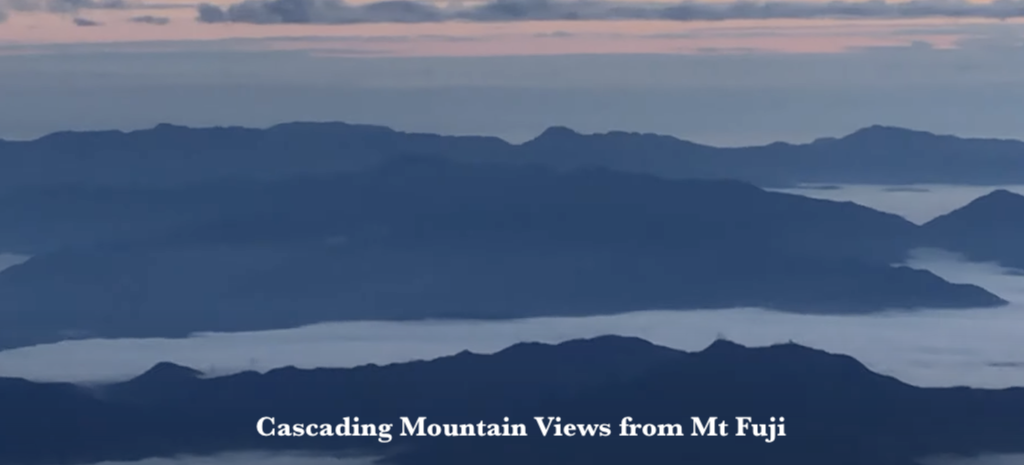 Day 2:
We reached Fujisan Hotel at 2.00 am decided to stay there for two hours. We woke up at 4.00 am to watch the sunrise and then continued our ascent to the the peak. Watching the sun rising above the foamy clouds from the original 8th station at 3,400 meters after a long and hard hike in the darkness of Mount Fuji, was purely magical and blessing! It was like a soothing balm to take and ease your pains away! Mount Fuji is one of Japan's "Three Holy Mountains" along with Mount Tate and Mount Haku. It is also a Special Place of Scenic Beauty and one of Japan's Historic Sites. It was added to the World Heritage List as a Cultural Site on June 22, 2013.
At the summit, after exploring the volcanic craters, we visited Kusushi-jinja, a shrine of Fujisan Hongū Sengen Taisha, situated on the north-eastern summit of Mount Fuji. It is dedicated to Ōnamuji and Sukunahikona.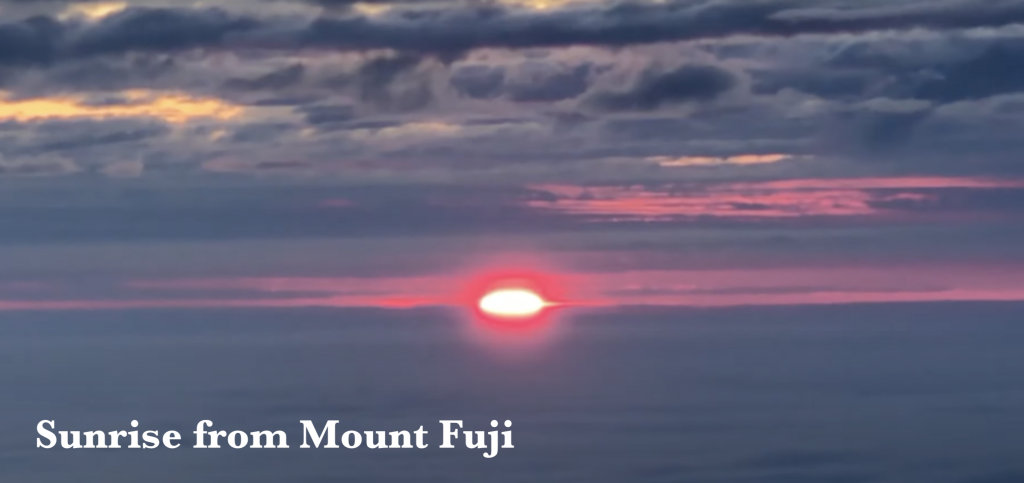 We started our descent through Subashiri Trail around 9 am and reached the 5th station at 3 pm. The descent was more harder for us than going up. The volcanic loose sands were difficult to navigate since you could easily slide or trip over. We zigzagged our way through the descent.
The hike to Fuji was one of our memorable times in Japan. It was great watching the sunrise from the Land of the Rising Sun and from the iconic Fujisan.
Happy Hiking & Exploring! If you find this page helpful, please watch our Visit Japan videos.