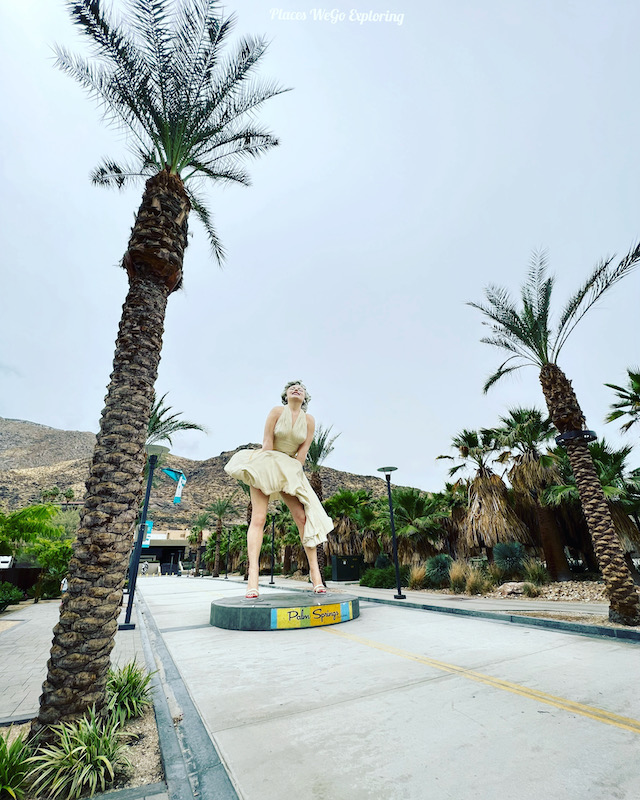 Landmark: Forever Marilyn Sculpture
Sculptor: Seward Johnson
Interesting Facts: 26-foot tall, 24,000-pound monumental sculpture created with stainless steel and aluminum
Year: 2011
City: Palm Springs
State: California
Country: USA
The statue is a representation of one of the most famous images of Monroe, taken from Billy Wilder's 1955 film The Seven Year Itch. Created in 2011, the statue has been displayed in a variety of locations in the United States, as well as in Australia.
Other locations of the statue:
Chicago, IL
Hamilton Township, NJ
Stamford, CT
Bendigo, Australia

Source: https://www.palmspringsforevermarilyn.com
The site of Forever Marilyn, the 26-foot tall, 24,000-pound monumental sculpture was created by sculptor Seward Johnson with stainless steel and aluminum. This dramatic sculpture is extremely realistic, especially in the skin tones. Her unique patina involves ten layers of hues with a matte finish, except for the glossy elements of her lips, toe nails and the pearlized glaze on her earrings.
A passion for detail and an uncanny realism of pose are qualities often associated with the works of sculptor Seward Johnson. Well-known for recreating life in our times in vivid realism, with this series titled "Icons Revisited," the artist explores in three dimensions why some visual images so captivate us that they become larger than life. These subjects outlive their own time periods and come to stand for something metaphoric and universal.