The mountains are calling and I must go ~~ John Muir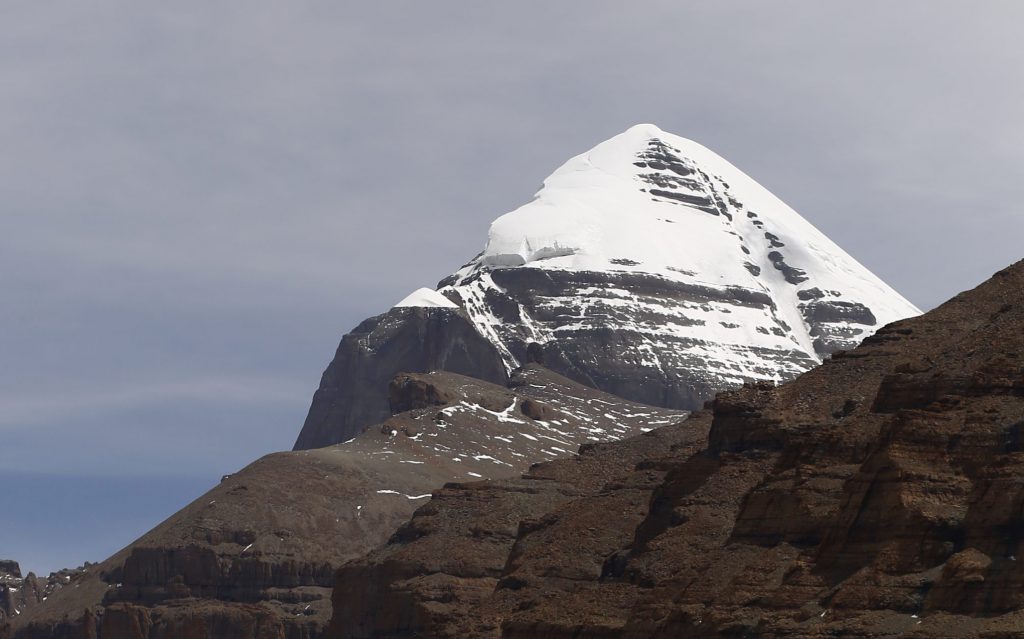 In May 2017, we embarked on our once-in-a-lifetime journey to Mount Kailash, a sacred abode of Lord Shiva and Goddess Parvathi. Kailash Mountain is a sacred place for Hindus, Tibet's Bon, Buddhists and Jains. It lies near Lake Manasarovar and Lake Rakshastal in Tibet Autonomous Region, China. It is also called the naval of the world and is the source of the Indus River, the Sutlej River (a major tributary of the Indus River), the Brahmaputra River, and the Karnali River (a tributary of the Ganges River).
We had been practicing hiking our local mountain peaks in Arizona and California for a few months to go around the mountain that has never been climbed.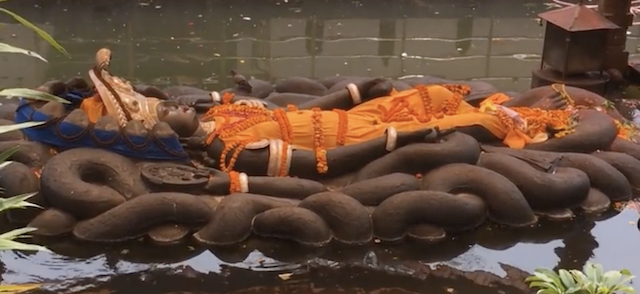 Day 1:
Our journey started at Kathmandu. Visa process for us was not bad! US passport holders got the 15-day visa for $20. We worked with Kailash Journey Tour. We were greeted by Tour Operators, Ram & Laxman at the airport. We checked into Yak and Yeti hotel. It was a great stay and they have a beautiful water fountain set up and small temples for Garuda and Budhha. In the evening, we stepped out into the streets and went up to the markets! We had a three course dinner at their resturant and called it a day.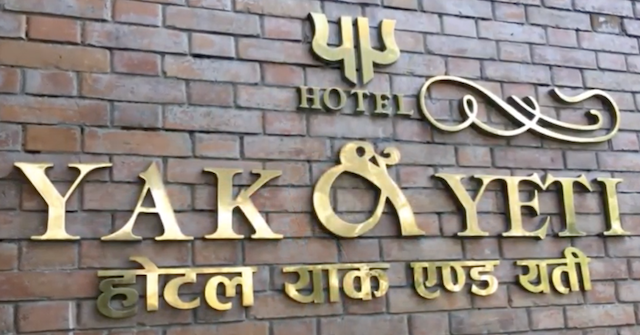 Day 2:
We woke up at 5 am and got ready to leave by 5.30 am to go to the domestic airport to take a plane ride to see the Mount Everest peak.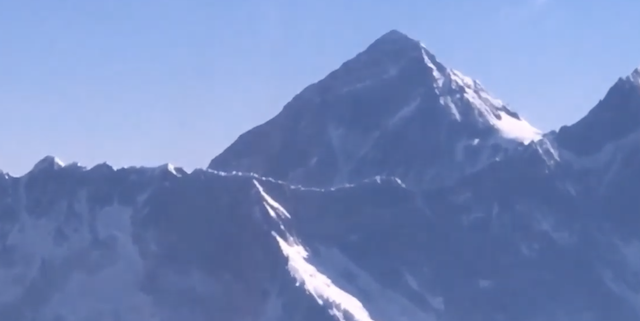 The Yeti Airways ride was for about 45 minutes! The day was clear and beautiful. We got to identify Shiva Shankar Peak, and Everest Peak with no problem. We went up all the way until Mt Everest Peak was sighted and took a "U" turn to get back to the airport. Champagne and apple juices were offered to all the passengers and we got to visit Cabin to chat with the pilot and the co-pilot. When my turn came, we were nearing the Everest peak and I got the view from the cockpit.
We got back to the Yak & Yeti by 8.30 and had a filling breakfast. We checked out of the hotel by 11 am. We backpacked for an overnight stay. We drove to Baktapur Palace, a world heritage center where a few of the buildings are still getting renovated from earthquake damage in 2015. Then we went to Nagarkot and checked into Hotel Club Himalaya. Our chauffeur was Lakshman who was an amazing and most friendly guy. After awesome late lunch by 3 pm, we took some rest and stepped out again at 4.45 pm to hike to View tower for sunset. It was about 4.83 km away from Hotel Club Himalaya.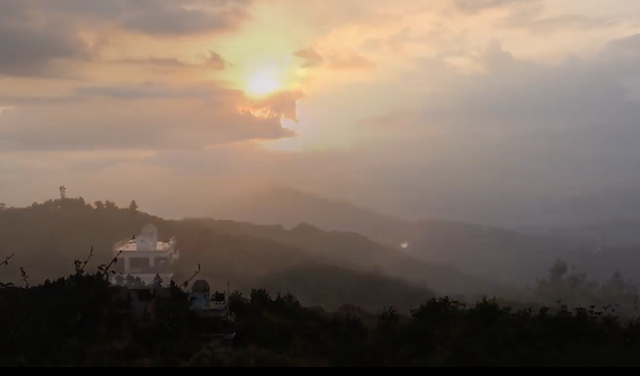 It was a good stretch and a great workout for cardiac exercise. Climbing up the tower was a challenge for me but nevertheless I did it! The views were stunning. We came back and had a warm dinner and hit the bed early by 9.30 with a plan to wake up for the sunrise. This hotel room has a beautiful private balcony. Our balcony faces east and we were hoping to watch the sun rise from our balcon
Day 3:
Stepped out into the balcony at 5 am and waited for sunrise at 5.22 am! It was Serene and beautiful to watch the sun rise waking up the valley slowly. After that, we got ready and packed and had breakfast and checked out to drive back to Kathmandu. We drove straight to Shiva temple in Sanga.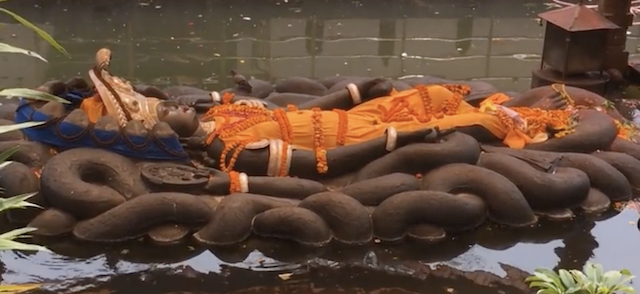 The statue of Kailashnath Mahadev is the world's tallest Shiva statue which stands tall at 144ft (44m). We had an opportunity to do milk abhiseksm to the Panchamukha Linga.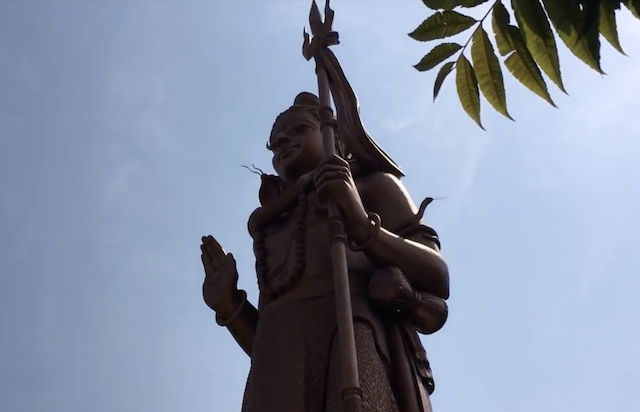 We then drove to Sakthi Peet and Jal Narayanan temple. We checked back into Yak & Yeti and took some rest before heading out to Kailash Tour briefing.
The Kailash Journey team briefed us about what to expect on our next 10 days with them on their tour. Then we stepped out into the streets for a walk and had dinner at Yak & Yeti and called it a day.
Day 4 & 5: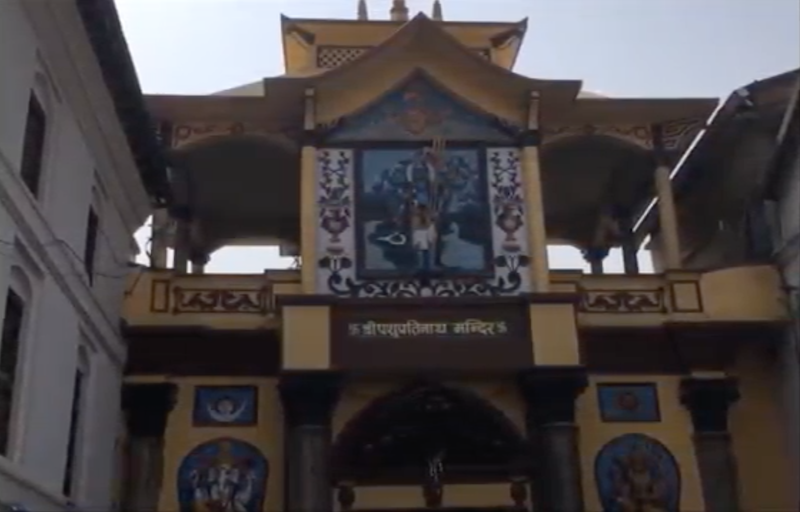 We had breakfast at 6.30 and got ready to go with our group to go to Pasupathinath Temple. The twelve Jyotirlingaas in India are the body and the Jyotirlinga at Pashupatinath in Kathmandu, Nepal is the head over this body.
The temple was crowded but we had a good darshan. Next, the group was heading to Jal Narayanan temple. Since we visited the temple the previous day, we decided to go on our own to do some shopping. We went to Thamil Square and did a little shopping.
We met the group again at the hotel and had our lunch. Here we were asked to repack our stuff . They advised us to pack 10 kg in a duffel bag and 2 kg worth of stuff in the back pack. Then we checked out to head to the airport to go to Nepalgunj. The flight got cancelled due to bad weather.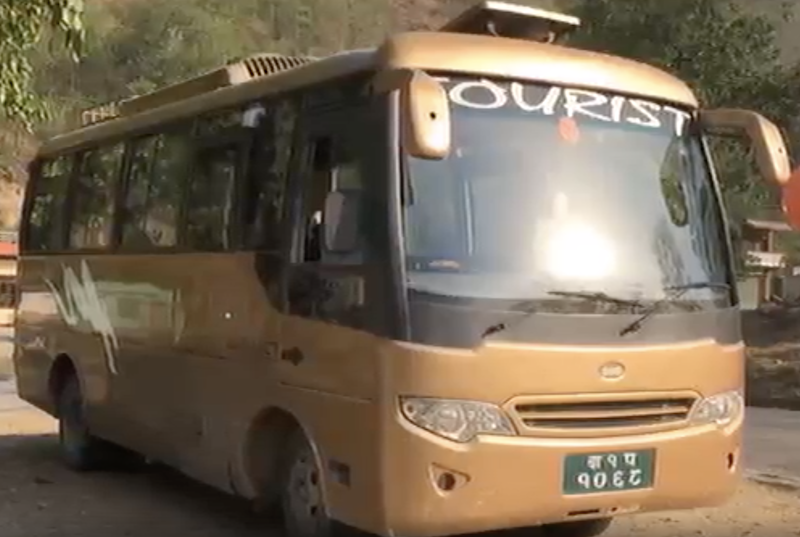 Our group agreed to reach Nepalgunj by bus and after the arrangements were made, we left in two buses around 8.30 pm. The bus stopped at the miserable place for late dinner at 12.30 am and most of us just skipped it. The road condition and weather contributed much poorly for our situation.
It was the longest bus journey most of us have ever taken in our lifetime. 17 hours of a long bumpy ride. We checked into the hotel at Nepalgunj and had lunch. We took a couple of hours nap and had dinner and called it a day.
Day 6:
Got woken up at 4 am to get ready for Nepalgunj airiport. At 6.30. we had bread and tea and headed out to Nepalgunj airport. Took a Plane ride to Simikot and then a helicopter ride to Hilsa, on the border of Nepal.
Simikot to Hilsa chopper ride was outstanding with great views of white mountains and green valleys! We had our lunch, dhal and rice and tea at and got ready to cross the Friendship Bridge between Nepal and Tibet.
Until then we never felt any uneasiness or heavy breathing. Once crossing the border into Taklakot, Tibet, some of us started feeling dizzy and felt squeezy in our stomach. Our bus was stopped at a couple of places to check for our passports and phones. The immigration people went through everyone's phones and cameras for photos and a few of them were asked to delete the photos and videos. No photos and videos were allowed to be taken in army controlled zones and at borders! We felt the restroom necessity there but had a shock truth! Not a drop of water in the restrooms and if outside the building, it was just a Dug HOLE.
Day 7:
We checked into the hotel at Taklakot and had our dinner. Our Tibetan Sherpas started taking care of us. They collected all our passports and informed us that they would give them to us only on the day we return back to Nepal. Since we lost a day in our flight cancellation from Kathmandu to Nepalgunj, we could not have a rest day at Taklakot. They were briefing us about how we have to start the next day to Darchen. It was very cold and many of us felt the need for oxygen cylinders. We bought a few cylinders at the stores in Taklakot for our private use though the Sherpas were ready to provide us the support.
Day 8:
We all packed and had our breakfast and headed towards Lake Manasarovar. We all got really excited and started chanting/shouting "Om Namashivaya" when we started viewing Mount Kailash by Lake Rakshastal.
We stopped at Lake Rakshastal for about 10 minutes and had a good darshan of Mount Kailash. Lake Rakshastal is a large salt water body where it was believed that Ravana got his boon from Lord Shiva with his rigorous tapas on this bank. We all then boarded the bus and drove towards Holy Lake Manasarovar. It is a large body of fresh water where even today mysterious lights appear in the early hours of the morning . It was really interesting to see it in the google map that we were driving between two great lakes at the world's highest point. 
Lake Manasarovar Parikrama:
The Sherpas planned it such a way so that we would be doing parikrama of Lake Manasarovar that day. They took us to Lake Manasarovar where we could take a dip in the water before the full moon day. It was like having a private party to our team. The water at Lake Manasarovar was crystal clear and naturally COLD! The Sherpas made a temporary tent for us to change our wet cloth. Some did poojas and some chanted their prayers quietly after the dip. Almost all members of our group took a dip in the holy Manasarovar lake! After that we all headed towards Darchen. The bus took us around the Lake Manasarovar and we did the parkrama on four wheels 🙂 That night we all felt so happy and blessed to have the darshan of Mount Kailash from Lake Manasarovar. With all expectations and anxiety, we were looking forward to our next three days of parikrama! The Lead Sherpa came into our rooms and asked our preferences with availing porters and horses. We preferred walking on foot but requested two porters for five of us.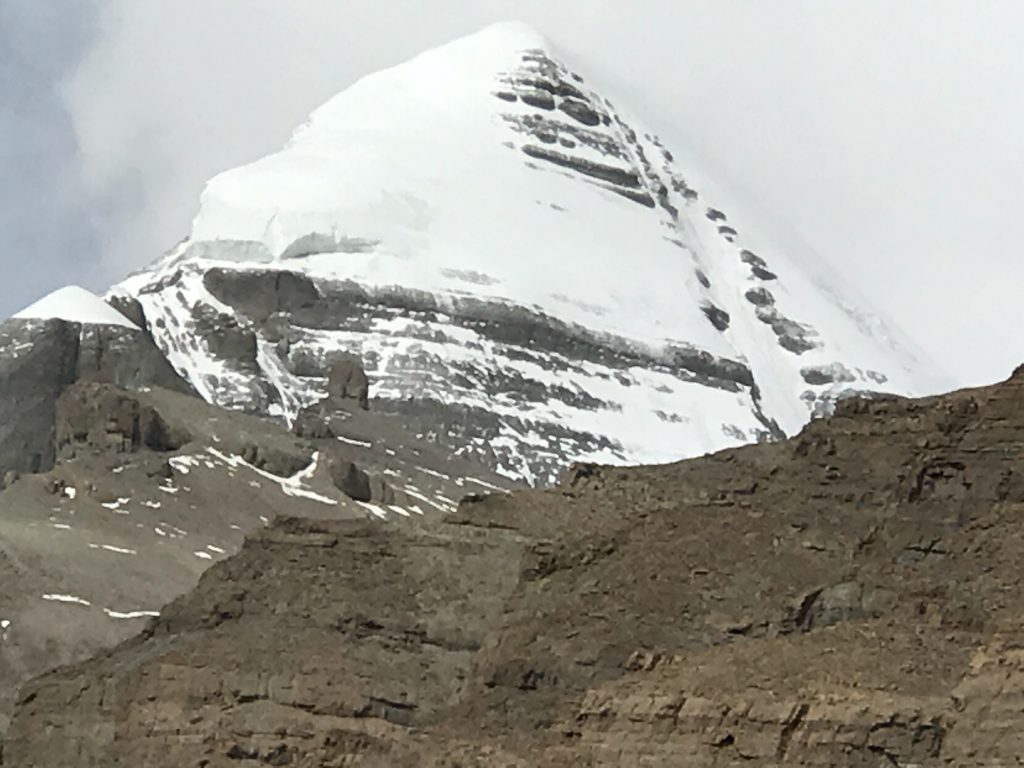 Day 9:
We started after our breakfast and were given packed lunch and were separated according to our preferences. A few people wanted to walk but most of them preferred pony/horse ride.
We went to Yam Dwar and people went around the temple three times. It is like getting the permission of Yama, the God of Death. The starting point of the parikrama is the Yama Dwar or the Gates of the Lord of Death at Tarboche. The significance of doing the three rounds around Yam Dwar is Yama guides the mortal souls to their heavenly abode. Symbolically, at Kailash you abandon your mortal self and your soul enters the heavenly abode of Lord Shiva.
The walk was simply great. The surroundings were amazing. You were walking in the valley surrounded by tall rock mountains to your right and left. At Yam Dwar, we get to have the darshan of south face of Mount Kailash walking towards Mount Kailash keeping the mountain in full view was just indescribable. It was a long day of walking but every moment was incredible. No words to describe our walk on the earth to the abode of Lord Shiva. The gentle wind sometimes hard and cold, the gentle flow water from the glacier going downhill, and the rough patch of terrain, and occasional four and two wheeled vehicles passing us were the only companions for our long walk. You may see the Yaks carrying people's loads on their back and Yetis grazing the dry patches of grass in the distance and occasional birds and a few of the burrowing animals.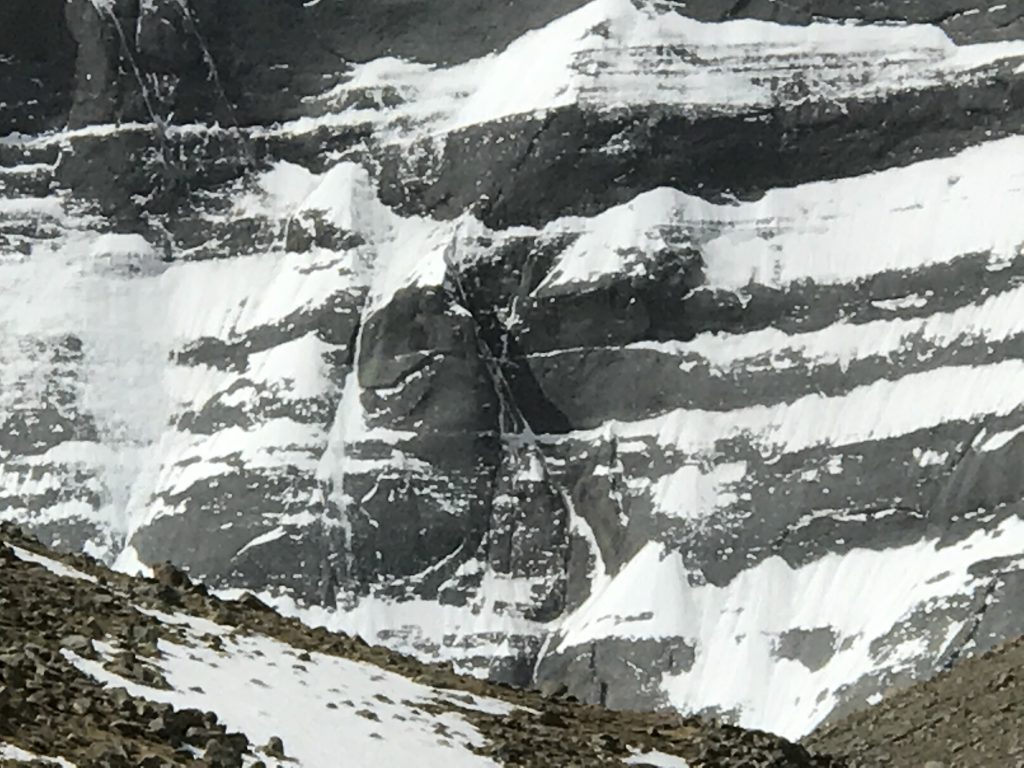 The west face of Mount Kailash could be seen but not as open like the south and the north face. There was a wall of other smaller mountains that blocked the west view. It was almost 9 pm when we reached Dirapuk. Our night stay was at the feet of North face of Mount Kailash. Because of the location of Tibet Plateau at the highest altitude the daylight was there until very late in the evening. Though the sky was clear, it was cold and windy so you had to keep the jackets and mufflers on. We reached Dirapuk around 9 pm and had to call it a day. But the Sherpas were very persistent and they brought hot soup and dinner to our beds. We were also informed because of the heavy snowfall on the east of Mount Kailash, our permission was revoked by Tibetan administration and we had to go back to Darchen. It was very disappointing to many of us. Though we tried to convince the Sherpas, we were prepared for the snow hike, we were not allowed since ours was a group permission.
Day 10:
The next day we woke up to have warm tea and the Sherpas were making arrangements to send us back to Darchen. Some requested ambulance ride (jeep ride) back and we preferred walking back. We stepped out to have our darshan of Mount Kailash. It was a cold but beautiful morning. The porter told us to go to the closer point before we leave from there.
So we decided to go up further from where we all stayed and had a very peaceful prayer time with Lord Shiva. The moment was very blissful. We started our walk back to Darchen. When we were walking back we had hail storming our way for a few minutes. But thankfully, it stopped and we had a smooth walk back.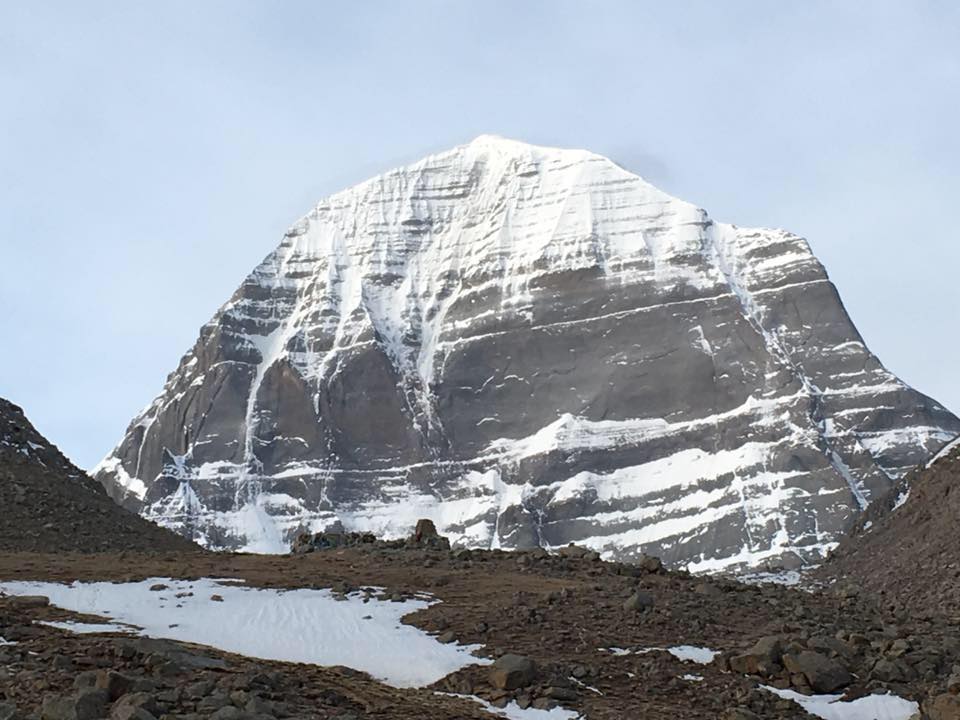 Day 11:
That was a full moon day on May 2017. We came to Lake Manasarovar for a night stay. In the afternoon we went up to Tibetan Monastery and had a view of the lake from the top of the hill. It soon started turning very cloudy and we were worried about missing the moon rise. By the time, we could see the moon it was way above the horizon. Undeniably, it was still a beautiful sight. We had a full moon darshan on the bank of Lake Manasarovar that night.
Day 12:
We all woke up in the early hours to watch the mystery lights on the lake. The intense cold weather and fogginess might be the reason why we couldn't see any mysterious lights. It was very cloudy and Mount Kailash was fully covered in clouds in the morning. There were a lot of people who arrived through different travel groups. They were all wondering which side they would look for Mount Kailash. By the time, we got ready to leave, the clouds started dispersing and we got a good darshan again. Leaving the Lake and Mt Kailash behind us, we all felt something tugging at our hearts. It was really a mixed feeling. You were having a beautiful darshan of Mount Kailash day in and out and always walking or driving towards the mountain and now suddenly you were going away from the mountain and leaving the mountain behind you was very sad… Don't really know how to describe the emotions. But we were all feeling very emotional.
We stopped at Taklakot hotel and waited for the permission from the Tibetan Authorities to cross the border into Nepal. We crossed the border and walked over the Friendship Bridge into Hilsa. We were given hot tea and some snacks at the Nepal Side. The choppers arrived in about 15 to 30 minutes and about 2 hours later, we were the last group to leave the Nepal/China border. The chopper ride to Simikot over the green valleys was just amazing with spectacular views. We reached Simikot and were put up in a lodging for the night. Simikot is located in a very beautiful scenic valley and we really wished we had a little more time to explore the village. But by the time we reached it was a little late to explore the village. We had dinner and called it a day.
Day 13:
We got ready to go to airport to catch the flight to Nepalgunj. The plane ride was about 45 minutes and we got back to the same hotel that we had stayed. We were not given separate rooms since we were catching the flight to Kathmandu in the evening, we were asked to share the room with 4 to 5 people. We had lunch and relaxed a bit and left for Kathmandu. Unlike our other trip, this was very smooth and we reached Kathmandu by 10 pm. Most of us were very tired and we had late dinner and went to bed. Since our flight back home was in the morning, we quickly stepped outside the hotel to do our last minute shopping.
Day 14 :
We packed and bid farewell to our new friends that we made over this trip and had our breakfast and left for the airport to go home.
Om Namashivaya!
Despite a few inconveniences, we had a great yatra to last our life time. So small and humble we become before our Mother Nature, Lord Shiva and Goddess Parvati!!
We are planning to go back again to complete our parikrama. If God willing, we may try again in a few years from now!