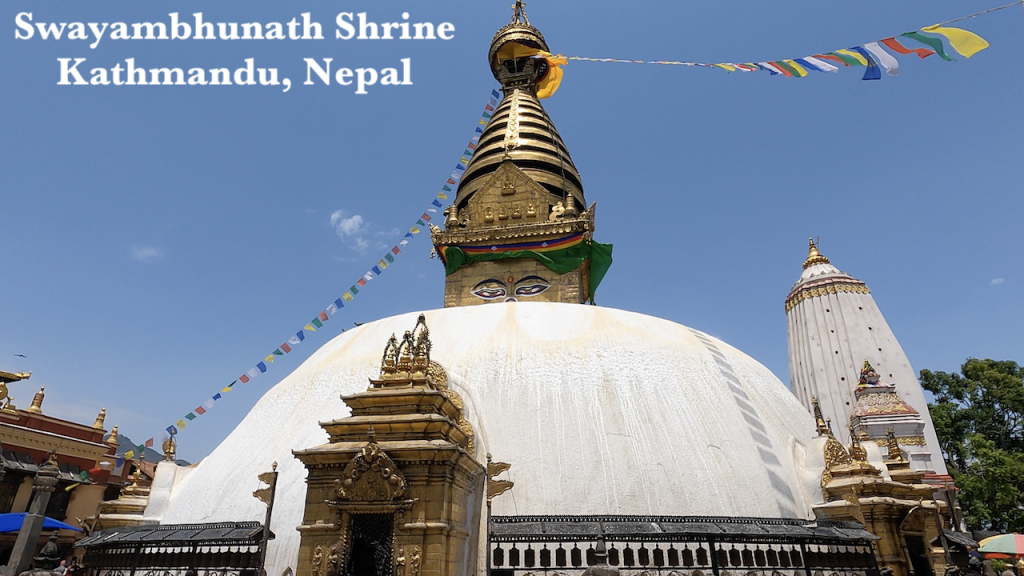 Swayambhu, means 'self-sprung'. The buddhist shrine in Kathmandu, Nepal is the oldest religious site and was founded by King Vṛsadeva about the beginning of the 5th century CE. (Common Era)
Also known as Monkey temple, this shrine is among the oldest religious sites in Nepal and is visited every day by numerous tourists and locals. Swayambhunath Stupa is a 2000 years old Buddhist monument & UNESCO cultural world heritage site.
There is small fee to enter the site. For people from SAARC countries, it is 50 Nepali rupees and for other countries, the fee is 200 Nepali rupee (about US $1.50)
What is SAARC?
SAARC stands for South Asian Association for Regional Cooperation and its member states are Afghanistan, Bangladesh, Bhutan, India, the Maldives, Nepal, Pakistan and Sri Lanka. The purpose of SAARC promotes the welfare of the peoples of South Asia, strengthen collective self-reliance, promote active collaboration and mutual assistance in various fields, and cooperate with international and regional organizations.
The temple is in the uphill overlooking Kathmandu Valley. We walked up through the side walk shops and came down through the eastern 365 stairways where you get to enjoy viewing a lot of monkeys. Monkeys are considered sacred and holy here.
The main stupa:
Single plinth base stupa contains womb, dome, Harmika, wisdom with compassion eyes to four directions, third eyes, 13 spares, and pinnacle. Buddha's third eye
Buddha's (Two for external journey and one for internal journey)
Although the site is considered Buddhist, the place is revered by both Buddhists and Hindus. Numerous Hindu monarch followers are known to have paid their homage to the temple, including Pratap Malla, the powerful king of Kathmandu, who is responsible for the construction of the eastern stairway in the 17th century.
The stupa was completely renovated in May 2010, its first major renovation since 1921[5][6] and its 15th in the nearly 1,500 years since it was built. The Swayambhu Shrine was re-gilded using 20 kg of gold. The renovation was funded by the Tibetan Nyingma Meditation Center of California, and began in June 2008.
At around 5 a.m. on 14 February 2011, Pratapur Temple in the Swayambhu Monument Zone suffered damage from a lightning strike during a sudden thunderstorm.

Watch our trip to this beautiful temple: