The CA – 395 highway is used as an access route for both the highest point in the contiguous United States, Mount Whitney, and the lowest point in North America, Death Valley. The corridor has been used since the California gold rush, and before numbering was known by several names including El Camino Sierra.
We started this road trip from Santa Monica and ended at Lone Pine. Just wanted to share what we saw on our way up here on this iconic route!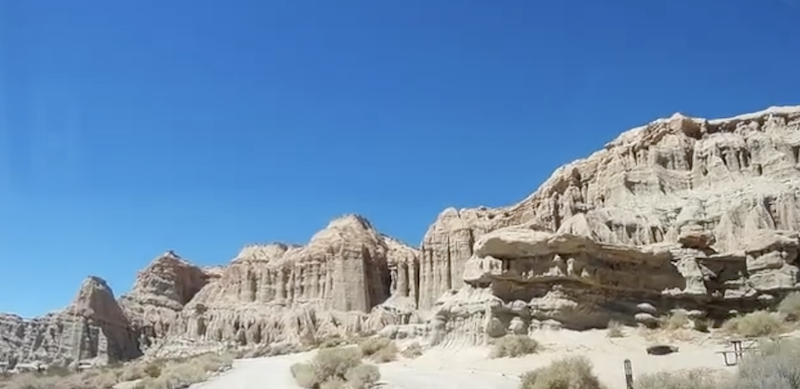 Stop #1 Red Rock Canyon State park:
The park is located on CA State Route 14
Historically, the area was once home to the Kawaiisu Indians, who left petroglyphs in the El Paso mountains and other evidence of their inhabitation. The spectacular gash situated at the western edge of the El Paso mountain range was on the Native American trade route for thousands of years. During the early 1870s, the colorful rock formations in the park served as landmarks for 20-mule team freight wagons that stopped for water. About 1850, it was used by the footsore survivors of the famous Death Valley trek including members of the Arcane and Bennett families along with some of the Illinois Jayhawkers. The park now protects significant paleontology sites and the remains of 1890s-era mining operations, and has been the site for a number of movies.

The park features scenic desert cliffs, buttes and spectacular rock formations that had been featured in several western Hollywood movies like The Big Country, The Outlaw, Beneath the Planet of the Apes (1970), Jurassic Park, The Mummy & many more.
Stop #2 Garlock – A Ghost Town – Historical Land Mark #671
In 1896, Eugene Garlock constructed a stamp mill near this spot to crush gold ore from the Yellow Aster Mine on Rand Mountain. Known originally as Cow Wells by prospectors and freighters during the 1880s and early 1890s, the town of Garlock continued to thrive until 1898, when water was piped from here to Randsburg and the Kramer-Randsburg rail line was completed.

Stop #3 – Indian Wells Brewery:
"Full-service brewery and soda pop manufacturer with a gift shop, tastings, and inside or outside seating"
Indian Wells Brewing Company on Highway 14 is one of the great stops for the whole family to try bizarre drinks like ranch dressing and buffalo chicken soda.
Stop #4 – Olancha Sculpture Garden:
Our next stop was at the off-the-beaten-path Olancha Sculpture Garden, a unique philosophy of life represented with the trashed metals by Jael Hoffmann. A very unique spread out in the desert, the sculptures convey the meaning of freedom, teach us the give & take policy, and the art really needs is a creativity in mind & thoughts.
As quoted by her own words, "Sculpture gardens facilitate access to art. The rugged environments my sculptures chose to inhabit are not coincidental, but supportive of their unadorned messages."