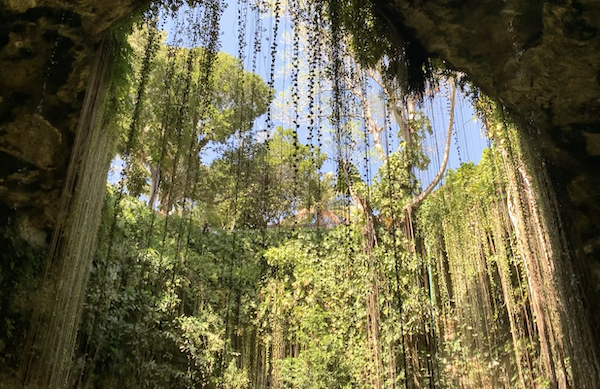 Ik Kil is a cenote outside Pisté in the Tinúm Municipality, Yucatán, Mexico. It is located in the northern center of the Yucatán Peninsula and is part of the Ik Kil Archeological Park near Chichen Itza. Ik Kil is near the Mayan ruins of Chichen Itza, on the highway to Valladolid. It is open to the public for swimming from 9am to 5pm all year long.
The cenote is open to the sky with the water level about 26 metres (85 ft) below ground level. There is a carved stairway down to a swimming platform. The cenote is about 60 metres (200 ft) in diameter and about 50 metres (164 ft) deep. There are vines which reach from the opening all the way down to the water along with small waterfalls.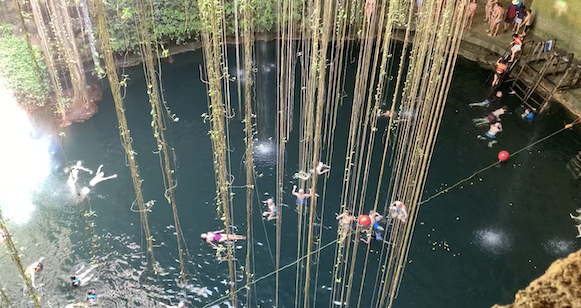 We stopped here on our way to Chichen Itza, one of the New 7 Wonders of the World. The denote was crowded and beautiful and lush green. It is worthy to take a break here and a dip in the cool waters. You have facilities here. It is a ticketed entry.
Cenote Ik Kil is sacred to the Mayans and the Mayans used this Cenote Ik Kil for both relaxation and ritual services. Ik Kil was considered sacred by the Mayans who used the site as a location for human sacrifice to their rain god, Chaac. Bones and pieces of jewelry were found in the deep waters of this cenote by archaeologists and speleologists.